Easy DIY Dog Costumes
Easy DIY Dog Costumes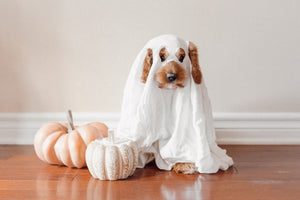 Thinking about what to dress up as for Halloween? It's right around the corner and we've found some DIY costumes to help make this one the best one yet.

While dressed-up pets can be adorable, always be mindful of safety and comfort! 
GHOST:
A classic and oh-so-spooky costume that takes 5 minutes to create. The ghost costume is a great way to dress up your dog when you're stretched for time. All you need is a white sheet and some scissors. Cut holes for the eyes and nose, and Boo! you're done.
STUFFED TOY:
Ever think your dog is so cute they could be a stuffed animal? Well now they can be! This costume may be the easiest dog costume with one simple step of printing off a stuffed animal tag and attaching it to your dog's collar. Caution: may be too cute to handle.
 MUMMY:
Last but not least, our 3rd favourite DIY dog costume is the mummy. While it may seem like all you're doing is wrapping up your pup in a bunch of random materials, that's exactly what you're doing — and that's why we love it! The mummy costume is a crowd-pleaser and requires one thing: something that looks like gauze. Just use bandages or cut-up old t-shirts or blankets and wrap your pup up. We suggest doing it loose enough to make sure they're always comfortable, but it's up to you how mummified you make your pup!
Credit: Acana