Homemade Dog Treats (Peanut Butter & Pumpkin)
Homemade Dog Treats (Peanut Butter & Pumpkin)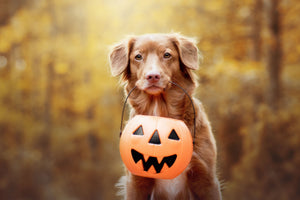 Your furry friend is an important member of the family, and that means they deserve homemade treats too! Sure, you can go out and buy a box of dog treats, but these Peanut Butter and Pumpkin Dog Treats are made with love - and they're just as easy to make as a batch of cookies.

Here's what you'll need to make the homemade pumpkin dog treats:
Whole Wheat Flour
Whole wheat flour is packed with nutrients for your pup, like fiber, protein, and antioxidants. You can use all-purpose flour in a pinch, but it won't provide as many nutrients.
Eggs
Eggs are great for dogs and add protein, fatty acids, and vitamins to their diet.
Canned Pumpkin
Make sure you get pure pumpkin puree and not pumpkin pie filling. The pumpkin pie filling can have added ingredients, like sugar, which isn't great for dogs.
Peanut Butter
Use natural peanut butter or double check the ingredients and make sure the peanut butter doesn't contain Xylitol, which can be harmful to dogs.
Salt
The salt will help the treats' flavour - and it's perfectly safe for dogs in moderation.
Cinnamon
Not only does cinnamon give the treats a delicious flavor, but also it can provide some great nutritional benefits (like antioxidants, anti-inflammatory properties, and better heart health).
Water
This optional step will keep the dog treats together and make it more workable for you.


Ingredients:
2 ½

 

cups

 

whole wheat flour

2

 

large

 

eggs

½

 

cup

 

canned pumpkin

2

 

tablespoons

 xylitol-free 

peanut butter

½

 

teaspoon

 

salt

½

 

teaspoon

 

ground cinnamon

1

 

teaspoon

 

water, or more if necessary (optional)

Directions:
Step 1: Preheat the oven to 175 degrees C
Step 2: Combine flour, eggs, pumpkin, peanut butter, salt, and cinnamon in a bowl; stir with a spatula until combined.
Step 3: Transfer mixture to a work surface and work it with your hands until mixture starts to come together. Add 1 teaspoon water at a time (only if needed) to help make the dough workable, but don't add too much as it should be dry and stiff.
Step 4: Roll the dough to a thickness of just over a centimeter.
Step 5: Cut out pieces (preferably with a bone shaped cookie cutter) and transfer to a baking sheet.
Step 6: Bake in the preheated oven until dog treats are golden brown and crunchy, about 40 minutes. Let cool before serving to your dog.

Nutritional Facts: (per serving)
| | |
| --- | --- |
| 56 | Calories |
| 1g | Fat |
| 9g | Carbs |
| 3g | Protein |
Credit: allrecipes