Improving Your Pets' Joint Health & Mobility Through Holistic Care
Improving Your Pets' Joint Health & Mobility Through Holistic Care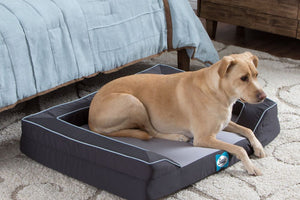 Humans aren't the only species plagued with aching joints as old age hinders movement. Sadly, our feline and canine friends also struggle with this issue. The good news is, there are decisions you can make as a pet owner to ease your furry companion's aches and pains. In this article, the team of experts at Canine & Co speciality pet store, delve into the details which will help you make informed, holistic choices to ensure the better joint health of your cat or dog, improving their mobility.

Exercise is a wonderful way to get moving and promote weight loss

An animal's ability to move with ease is mainly reliant on it maintaining a correct weight and Body Condition Score (BCS) which is a quantitative yet subjective method for evaluating body fat - think BMI for pets!  Next time you're at the vet and your pet yields a higher than normal BCS and you've noticed that your once sprightly dog for example, has decided to sit out a game of fetch, it could possibly be attributed to joint or mobility issues possibly brought on by weight gain.  Ironically, an animal in pain often moves less, which in turn results in a loss of muscle mass which then causes further pain.  Light to moderate exercise will help your pet with their mobility issues so, if you're a dog owner, don't skimp on the walks.  Cat owners on the other hand, should encourage play which gets your cat moving.  

Choosing a sound diet supportive of joint health

Joint support diets should focus on the whole body, not just the joint.  A sound diet coupled with adequate exercise aids weight loss and promotes the maintenance of an ideal body weight reducing the impact on joints.  Canine & Co recommend that owners carefully consider a nutritious, balanced diet on their pet's behalf versus adding joint supplements to existing diets.  Meat based diets provide all the building blocks that a body needs to reach the ideal weight, increase skeletal muscle tone, improve muscle tone around the joint, promote structural components for joint and cartilage support, and provide sufficient Omega 3 fatty acids to decrease inflammation and antioxidants to protect the body from inflammation.  Look out for products that contain no less than 50% meat content in the list of ingredients. Good ones to choose from include ACANA's Pacifica, Wild Coast or Singles Free-Run Duck ranges.        

Choosing a supportive bed 

Another important consideration for a pet owner whose pet is struggling with mobility is to make an educated decision when looking to buy a bed or basket.  Humans are advised to choose a supportive bed when it comes to their own mobility and joint struggles.  Our furry companions are no different.  Over the past few years, kitty and dog beds aren't what they used to be.  Now, owners have a wide array of choice from which to make their purchasing decisions.  The advancement of technology affords comfy beds which provide adequate support for your pet's joints and back. There are numerous beds available in store at Canine& Co where you can order beds from high quality brands like Sealy. Sealy create beds that not just allow for a restful night but, also allow for support on tender joints.  A prime example of this is Sealy's Cushy Comfy bed.  It is the perfect combination of chipped memory and orthopaedic foam, with the added benefit of cooling gel to keep your pet cool during the warmer months. With over 90% memory foam in every chamber, this bed cradles your pet as they lie down. The 10% of orthopaedic foam adds firmness and support to ease your pet's joints and bones throughout the night.  It's also shift-proof as it is chambered to prevent shifting of the foam so that no matter how much your pet shifts and moves during the night, the bed is guaranteed to hold its shape. 

Harnesses lead the way

The last thing an achy pet needs is for you to tug him around on a lead or inappropriate collar during a walk.  Jarring movements can be extra taxing on those sore joints.  Be sure to choose a harness and one which allows for ease of movement and has adequate padding for maximum comfort.  A good example of a supportive harness is the Ruffwear Webmaster Multi-Use Harness.  This harness in particular, is a secure, supportive, multi-use harness that's built for manoeuvring and assisting dogs walk more comfortably in the outdoors including, rough terrain tracks. Thin, durable foam provides support without hindering your pet's range of motion. Five points of adjustment create a secure fit, while the padded chest and belly straps make the Web Master comfortable for all-day wear. These also come in a range of sizes so you'll be sure to find your pet's fit. 
Ultimately taking care of the way your pet eats, sleeps and moves will ensure you address all their future joint issues now!