Funtastical Feline Goodies
Funtastical Feline Goodies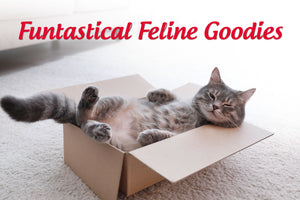 Behold! Feast your eyes upon the magnificent creation that is Canine&Co's extraordinary compilation of whimsical and enchanting feline treasures! Brace yourself, for these are no ordinary wares (nor run-of-the-mill labels) that one stumbles upon in the mundane aisles of a typical pet emporium.
The Purr Pillow by Petstages is a must have for any cat who gets separation anxiety, or just for one who loves to cuddle!
This soft, cosy pillow has a familiar, comforting purr that calms kitty when they're stressed. The purr is touch activated and lasts 2 minutes.
When it's time to wash, simply remove the purr mechanism. 



Developed by a veterinarian, the Drinkwell 360 Stainless Steel Pet Fountain provides 3.8 litres of fresh, filtered water to your pet. Multiple free-falling streams of water entice your pet to drink more while it continually aerates the water with oxygen. 
A charcoal filter removes bad tastes and odours, giving your pet the best way to stay hydrated. The fountain's multiple streams and circular design allows pets to drink from any angle and is great for multiple pet households. Stainless steel is the #1 material recommended by vets for the most hygienic pet dishes. 
The world's first app-controlled Microchip Cat Flap.
Do you want the flexibility to choose which cats are allowed outside and to track your outdoor cats' comings and goings remotely? Do you want to be able to lock the cat flap while you're away from home or check that your cats are coming and going as normal while you're on holiday? Well now you can, with the world's most advanced cat flap… ever.
Once linked with the Sure Petcare app you will be able to do all of this and more from your phone. So that whether you're at home or away, you can relax in the knowledge that your cats have the security they deserve.
Introducing the Surefeed Pet Feeder, designed to make life a lot easier for multi-pet homes. It helps stop pets stealing each other's food, so everyone can eat the food they need to stay healthy and happy.

Perfect for those with pets on weight management diets or prescription food, it's compatible with all identification microchips worldwide and works with the SureFlap RFID collar tag (included). The sealed bowl also keeps food fresher and free of flies, reducing food wastage. Battery life of up to 6 months with 4 x C cell batteries (not included).
Introducing the remarkable "Sure Hub" – the link between your connected products and the Sure Petcare app.
Control your devices effortlessly through the app's interface. Plug the Sure Hub into your WiFi router using the included ethernet cable. Manage up to 10 connected products from the comfort of your home. Enjoy the convenience of dimmable 'ears' that also flash for notifications.
Powered by a reliable mains connection, the Sure Hub is ready to revolutionize your cat's world. Welcome to a new era of seamless pet care with the incredible Sure Hub!


Your smarty cats will love the challenge of the Rainy Day Puzzle & Play by Nina Ottosson. Cats bat at the pegs and swivel the raindrops to uncover the 14 hidden treat compartments.
Adjust the difficulty of the puzzle to make it easier for beginners or more challenging for super smarty cats. Each puzzle comes with a "Tips and Tricks" info sheet to help you & your cat get the most out of your puzzle.
Replace your standard bowl and feed your cat from the puzzle to engage their natural hunting and foraging instincts. The puzzle holds up to 1/4th cup of food and is made with food-safe materials that you can trust with your kitty.
Let playtime roll with JW's® Bounc-ee Pounce Electronic Cat Wand! Designed to stimulate prey via vibrations, this cat wand has a felt ball at the end with an electronic module tethered inside a secure velcro pocket that vibrates and pulses as your cat interacts with it.
As you move the wand through the air or across the floor and your cat pounces, the vibrations and natural fibre hemp keep your cat engaged and interested in playtime.
When playtime is over, the sturdy and compact telescopic design makes this wand easy to store in a drawer or out of sight.


With an attached lid, the Petmate® Top Entry Litter Pan makes cleanup easier by keeping litter inside the box.
The generous wide top opening allows easy access for cats of all sizes, and the space inside is large enough for them to turn around. No matter how much they dig or paw through the litter, the high walls will keep it from spilling over the edge and onto the floor.
In multi-pet households, they will keep out curious dog noses. When your cat jumps out, the litter is trapped by the non-slip, textured lid and then falls back into the pan through grates that are large enough for most litter types.
The rounded edges and moulded bottom handle help you lift the box easily, for easy moving and pouring out old litter even when it is full of litter.
Features a built-in hook for hanging a litter scoop. The Petmate Top Entry Litter Pan is made in the USA from 95% pre-consumer recyclable materials, making it an eco-friendly litter box option.
Earthbath® specially formulated this Hypo-Allergenic Grooming Foam for cats (and their humans) who don't enjoy traditional water-based bathing.
This rub-on, towel-off formula makes grooming a cinch! Gentle cleansers whisk away dander, dirt, and residual saliva helping resolve human/cat allergies and leaving the coat with a plush, show-quality shine.
This waterless bath also helps to control shedding and is safe for all cats over 6 weeks.
Nature's Miracle Advanced Stain and Odour Eliminator works to discourage re-soiling by removing the odour of cat messes.
The bacteria-based formula produces enzymes when it comes in contact with bio-based messes including severe urine, diarrhoea, vomit and blood.
The Stain and Odor Eliminator is safe to use on carpets, hard floors, furniture, fabrics and more, when used as directed, and leaves you with a light fresh scent. Oh, and by the way, it's 100% guaranteed!
IncrediBubbles are not your ordinary bubbles. Safe and fun for both cats and kids, you can catch them, stack them, and watch them roll around on the group as your cat chases and plays with the bubbles.
Infused with catnip, IncrediBubbles are designed to dry in the air so that they remain un-popped when they land on the ground.
For the best results, use your hands to wave the bubbles in the air for a moment. The more time they float in the air, the lighter and more durable they become. IncrediBubbles have thousands of bubbles that last for hours and give you a new, interesting way to spend some time outdoors with your cat.
The Pet Qwerks® Cat Babble Ball® is a fun and interesting interactive cat toy that babbles and talks as your cat swats, paws, and plays.
Infused with catnip, the Cat Babble Ball turns on by itself as your cat walks past it or simply breathes on it, enticing and demanding playtime from your kitty.
Made from high-impact, ABS construction, Cat Babble Balls are very durable and are made for hours of playtime. The Babble Ball for Cats makes 6 different sounds that are designed to entice your kitty. When your cat is done, the Babble Ball turns itself off and waits patiently until your kitty is ready for play again.
Guaranteed to Bring Cats Back to the Litter Box.
Non-use of the litter box is the #1 behavioural reason cats are abandoned, abused or euthanised. Dr. Elsey's has an effective solution to this often misunderstood problem. For over 15 years, veterinarian-formulated Cat Attract™ training litter, with its natural herb blend, has been a proven solution for cat owners.
Blended with a natural herb attractant, the ideal texture and particle size combine to solve litter box problems. Each bag has a free Litter Box Solutions Booklet to help cat owners solve their litter box problems.
The Pawbreakers Catpurry Egg is approximately 50 grams of hard-pressed all natural North American Catnip, shaped like an egg.
Loads of wobbly, lickable fun, this award winning toy/treat combo your feline will find delectable!
Catnip without the mess, and they're always fresh.
Pawbreakers contain no soy, gluten, wheat, animal products or colouring and are hypoallergenic.
Whether your pet is ageing, injured, or just plain pampered, pet strollers can take walks to the next level.
The Gen7Pets® Regal Plus Pet Stroller has a Smart Canopy that gives your pet plenty of room and features a hidden front steel bar to create a safe, cosy enclosure.
Its easy-to-open canopy uses Smart Zippers that never get stuck. Pet and pet owner essentials like toys, bags or blankies can be stored in the Smart Basket.  
* all prices are per 3 July 2023 and subject to change