Funtastical Dog Products
Funtastical Dog Products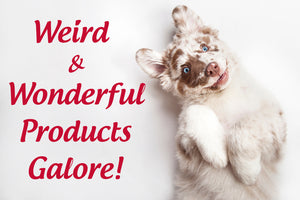 We have so many cool, quirky and delightful products at Canine & Co, so we thought we'd share some of our favourites with you. These are not the average products (or brands) you're likely to see in your corner pet-store. And for the cat-people - not to worry - your edition is right around the corner!
Discover a playful new way to engage your pup with the Pet Qwerks Animal Sounds Babble Ball. This durable toy will delight your pup with over 20 different animal sounds (not just domestic animals), encouraging them to play and stay active. Available in three sizes, this ball is the perfect interactive toy for your pet.
When your dog is done playing, the Babble Ball turns itself off until the next swat or chomp. 



Delight your pup and kids alike with Pet Qwerks Doggy Peanut Butter IncrediBubbles! The non-toxic formula is safe for pets, children and the whole family, while the peanut butter flavouring creates an extra bit of fun.

Unlike ordinary soap bubbles, these are designed to last longer and remain unpopped when they land. A perfect way to bring the whole family together for hours of outdoor fun!

And we're sneaking 1 cool kitty product in - so much of fun! Get the chase on with catnip infused bubbles for ultimate playtime fun! 


Let your pup explore with confidence in Ruffwear Grip Trex All-Terrain Dog Boots!

They provide greater traction on varied terrain and protect paws from all environments (including the extreme) with their breathable upper, rugged lug design, and secure cinch closure. Plus, the gusset design ensures a wide opening for easy on/off and visibility in low-light conditions. Ready to explore with your pup sporting his/her new vibram soles?


Introducing the Surefeed Pet Feeder, designed to make life a lot easier for multi-pet homes. It helps stop pets stealing each other's food, so everyone can eat the food they need to stay healthy and happy.

Perfect for those with pets on weight management diets or prescription food, it's compatible with all identification microchips worldwide and works with the SureFlap RFID collar tag (included). The sealed bowl also keeps food fresher and free of flies, reducing food wastage. Battery life of up to 6 months with 4 x C cell batteries (not included).
M-Pets Poppy Measuring Scoop is designed to help you ensure your pet eats just the right amount of food, every time.

Its combination of tech and precision lets you choose between grams and ounces (up to 800g), so you can be confident your four-legged friend is getting the nourishment they need.
What's more, you'll have peace of mind that they're eating the right amount for their size and age.  


Tickless Pet is the safe, effective and chemical-free way to protect your cats and dogs from ticks and fleas.

The tiny device fastens to your pet's collar and emits ultrasonic pulses to repel parasites for 6-12 months.

Proven effective in clinical research, Tickless Pet keeps your lovable furry pals safe and free to enjoy nature.
Give your beloved pup the gift of a lush, green lawn and treat yourself to the satisfaction of a stunning outdoor space with Dog Rocks®.

This 100% natural product from Australia filters out impurities in water, creating cleaner drinking water for your pup, and eliminating those nasty yellow burn patches from lawns. Enjoy two months of a beautiful lawn and peace of mind. What's not to love?


Train your four-legged companion with the PetSafe Treat & Train Remote Reward Dog Trainer!
This easy-to-use system uses positive reinforcement to help your pup learn calm behavior and stay focused on you, with engaging games and mental stimulation. Plus, you can use it to teach everyday and specialized skills, all from a distance. Give your pup the tools they need to learn and thrive!
Do you have a dog with anxiety or fear issues? Introducing the Thundershirt for Dogs - the internationally renowned, gentle treatment to help manage your pup's anxiety, fear and hyperactivity issues.
Enjoy the obvious benefits of calming anxiety, plus help your pup focus and refocus their energies in a constructive way, allowing for more effective training. Experience the amazing calming effect of the constant pressure around their torso.
Enjoy hours of interactive playtime with your doggo and the Mighty Arctic Walrus!

Made with up to two layers of durable material and multiple stitching for extra strength, its soft yet strong body will be a favourite for play-time. An adorable character design, your dog will love the delightful squeaking sound when they play.

Available in two sizes, it's perfect for small, medium, or large dogs!
Get fast and accurate results with M-Pets Uritest Pads! In just 60 seconds, this non-invasive and stress-free tool can help diagnose disorders and diseases of the urinary tract in your pet.
Recommended by veterinarians, this easy-to-use product can help detect the presence of blood, proteins, glucose, and more. Perfect for aging and overweight dogs, this doggy-pee-pad provides peace of mind when it comes to your pet's health!
Experience a peaceful outdoor environment with PetSafe's Outdoor Bark Control.
This ultrasonic birdhouse-shaped device detects barking from up to 15 metres away to help keep you, your pet, and your neighbours disturbance-free. Its 3 range settings emit an inaudible sound that startles the dog, letting them know that barking is not okay.
Enjoy a return to tranquility with PetSafe's Outdoor Bark Control.
Keep your floors safe and give your pup the convenience of a clean, comfortable potty with the Wee-Wee Premium Patch. From potty training a puppy to offering an adult dog a dedicated indoor-outdoor potty, it's designed with Easy Clean Home Technology and Leak-Guard System to keep messes from spreading. Plus, the grass mat gives your pup the feel of real grass under their paws. Embrace the convenience and peace of mind of the Wee-Wee Premium Patch!
Looking for other Wee-Wee solutions? Wee-Wee designed and created the first ever wee-wee pads back in 1970 and they are arguably still the world's top pet Wee-Wee solution! Check out their Gigantic Pads for big dogs (140% larger and more absorbant than standard pee pads) or their Eco Friendly Pee Pads!
Welcome your beloved pet in and keep intruders out with the Sureflap Microchip Pet Door. Compatible with all microchip formats, it will recognize up to 32 pet identities and has a double Lock Mechanism for extra security. Plus, the Curfew Mode allows you to schedule when the door can be accessed, giving you peace of mind. Perfect for doors, windows and walls, you can rely on the Sureflap Pet Door to keep your pet safe.


Tired of searching for that elusive pet urine stain?
Simple Solution Spot Spotter HD UV Pet Urine Detector takes out the guesswork, with 21 powerful ultraviolet LEDs that make urine stains glow in the dark, revealing hidden spots you'd never find otherwise.
The perfect tool for deep cleaning your home and keeping your pet happy and healthy.

Got a big dog with an unstoppable spirit? The Company of Animals Boomer Ball is tough enough for lions & might be just the thing for them!
Made from tough polyethylene means that most dogs can't puncture the ball or rip it to shreds, plus it's designed for larger-than-life characters who love to chase and conquer. So pick a size bigger than your pup can carry and make sure they're happy chasing their next adventure!
Silly and Fun For Everyone!
Treat your pup to a unique, interactive bonding experience with the Silly Squeaker Liquor Bottle Bad Spaniels.
Perfect for a different kind of toast, this fun and quirky novelty toy allows you to share a "drink" with your pet. With its playful whiskey design, you and your pup can 'cheers' in style!
If your pup has more of a "soft drink personality", maybe try some Panta or Canine Cola! 
Is your pup in need of a little extra comfort and support?

Sealy's Lux Premium Orthopaedic Dog Bed offers an ideal solution with its Quad Element Foam for ultimate comfort and certified orthopaedic support for all ages.
Plus, the Pro-Charcoal base helps absorb odours and the Certipur Foam is safe for your pup! It's also the perfect choice for dogs with arthritis, joint or bone problems.

Help your furkid get a good night's sleep in the outdoors with the Ruffwear Highlands Backpacking Sleeping Bag!
This lightweight and compressible synthetic down bag keeps dogs warm, comfortable and insulated. A half-length zip allows easy entry, while a neck baffle keeps cold drafts at bay and helps retain body heat for extra warmth.
Plus, the integrated pad sleeve allows you to use the Highlands™ Pad (sold separately) for even more insulation. Ultimate comfort while you're adventuring with your pet!
Boost your pup's excitement with the Nylabone Extreme Chew Cheese Bone!
The bone is cheese-flavoured and designed with powerful chewers in mind.
And when your pup needs a flavour refresh, just scrape the bone on a hard, rough surface. Plus, it's easy to clean with a brush and mild, non-toxic detergent.
Keep your dog happy for hours with this long-lasting flavourful chew toy!


Flexi has a soft spot for big dogs, and the Flexi Giant Tape makes it easy to give your pup the freedom to explore the great outdoors.
The soft-grip handle makes long walks comfortable and the sturdy 8m tape leash with its neon-coloured print and chromed snap hook will keep even the largest dogs secure. With Flexi, your canine companion can enjoy the adventure with superior strength that's been proven to hold over 250kg.
The Pagoda pet fountain is an ideal solution for your pet's hydration needs. The ceramic design makes it easy to clean and more hygienic, as well as being perfect for arthritic and senior pets due to the elevated drinking dish.

The replaceable foam filter catches hair and debris while the replaceable charcoal filter keeps the water tasting clean and fresh. This fountain is designed for quiet operation and holds 2 litres of water - perfect for any size of cat or dog. Plus, it's dishwasher safe! 
Introducing the Mighty Microfiber Balls Monster! The cutest toy for your furry friends, these soft yet strong plush toys are sure to be a hit.
With 6 squeakers in each of the 2 sizes, they're perfect for small, medium, or large dogs. 
Your pup can play in the water or on land - and when they're done, just toss it in the washing machine! Get your pup the perfect playmate today!
The Petmate Gen7Pets Promenade Pet Stroller is the perfect choice for pet owners looking for comfort and convenience.
It is designed to hold up to 23kg with two interior safety tethers, rear-wheel brakes, and front-wheel shock absorbers to ensure a safe and comfortable ride.
The mesh windows promise maximum air circulation and the all-terrain front wheel allows you to make sharp turns and easily navigate through large crowds. The Smart-Basket securely stores pet toys, jackets, etc. out of sight with a rear zipper for easy access.

And the best part? It folds down with the push of a button for easy storage and travel! 
JW Pet's Gripsoft Palm Nail Grinder is the answer to hassle free nail care - a cordless and portable way to trim and file your pet's nails with ease!
Its ergonomically designed handle and non-slip grip provide maximum comfort and control, while the rotating filing stone and LED light ensure precise trimming and visibility.
Plus, its unique nail guard has holes that prevent hair winding, and traps filings for hassle-free cleanup. Trim your pet's nails with confidence!
It's really important not to cut your pet's nails too short & to be very careful not to cut into the quick (the center of the nail where the nerves sit and where the blood supply for the nail cells lies). It's painful for your pet and will bleed. 
JW Gripsoft Styptic Powder is a fast-acting formula that stops minor nail bleeding - it has an applicator to quickly apply styptic (an antihemorrhagic agent).
A must-have for any pet owner who trims their own pet's nails! Safe for pets of all ages and sizes!
Reward your doggo with the durable JW Pet Treat Tower! This interactive toy drops kibble or treats through three colorful levels with your pup's help. Keep him enriched and entertained, while also curbing destructive behavior.
Plus, he can challenge himself to release his reward and develop his critical thinking skills. Available in 2 sizes with adjustable difficulty settings - great for every dog! 
Perfect for use on pavements / patios / drive-ways or other outdoor concrete areas. Easily manage your pup's mess with this premium Wee-Wee Doggie Doo Spade & Pan Set! Its coated-wood handles are comfortable to use, while its aluminum base won't rust.

Get rid of the mess with ease - no more bending and struggling to scoop up waste! Ideal for the "urban-pup" with limited or no grass. Your pet parenting life just got simpler with the Wee-Wee Spade & Pan Set!
Make pet clean-up a breeze with this durable Wee-Wee Wire Rake Dog Pooper Scooper! Rust-resistant and easy-to-clean, this scooper will make a pet-parent's life easier with its spaced metal prongs that effortlessly sift through grass and sand.

Plus, its comfortable rubber handle makes cleanup quick and easy. Have an effortless pet clean-up experience with this Wire Rake Scooper!
Say goodbye to shedding with the Furminator! This amazing product is used and recommended by veterinarians and professional groomers and can reduce your pet's shedding up to 90%.

The special, non-damaging blade sweeps away pesky undercoat hair while the integrated protection system ensures a comfortable, efficient experience. Don't just brush and comb: deShed with the Furminator!

Suitable for dogs of all sizes & fur length.
And last, but certainly not least:
The Mighty Dinosaur - Stegosaurus is a super soft, plush toy made amazingly strong! With its soft edges, it won't hurt your pup's gums, and its machine washable and even floats!
Perfect for interactive play with one or multiple dogs who love to whip and tug, this plush toy is Mighty® strong inside, so it can keep up with your pup's energetic play. Available in two sizes, it's perfect for small, medium, or large dogs.
* all prices are per 17 March 2023 and subject to change